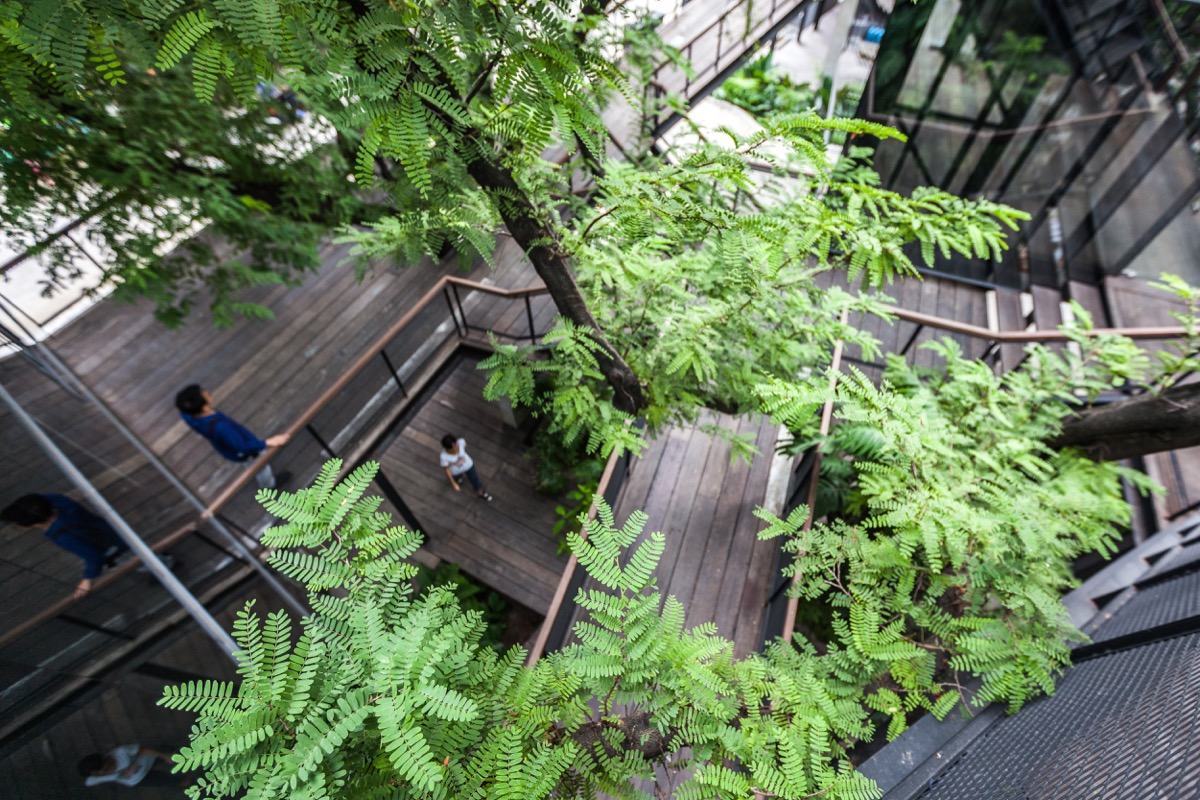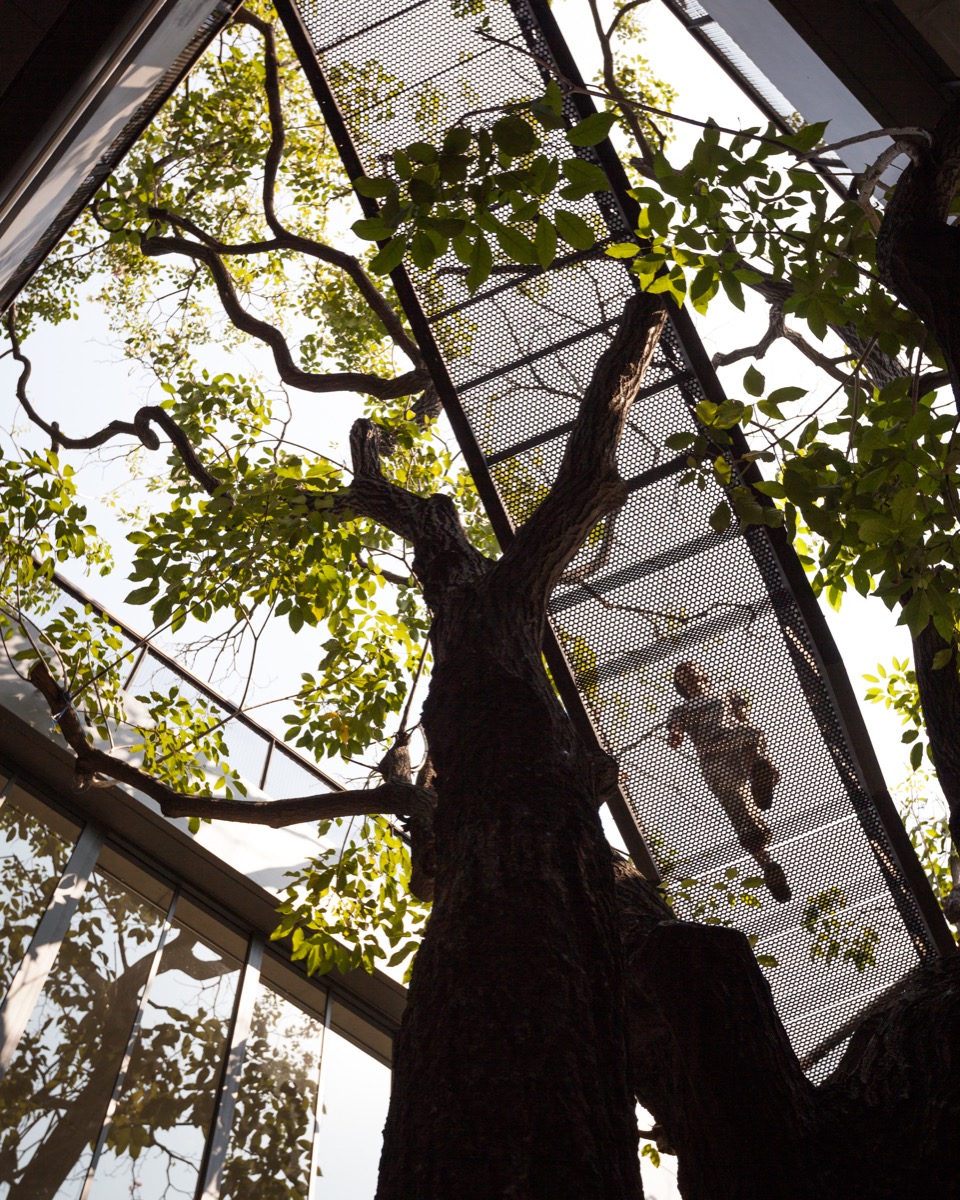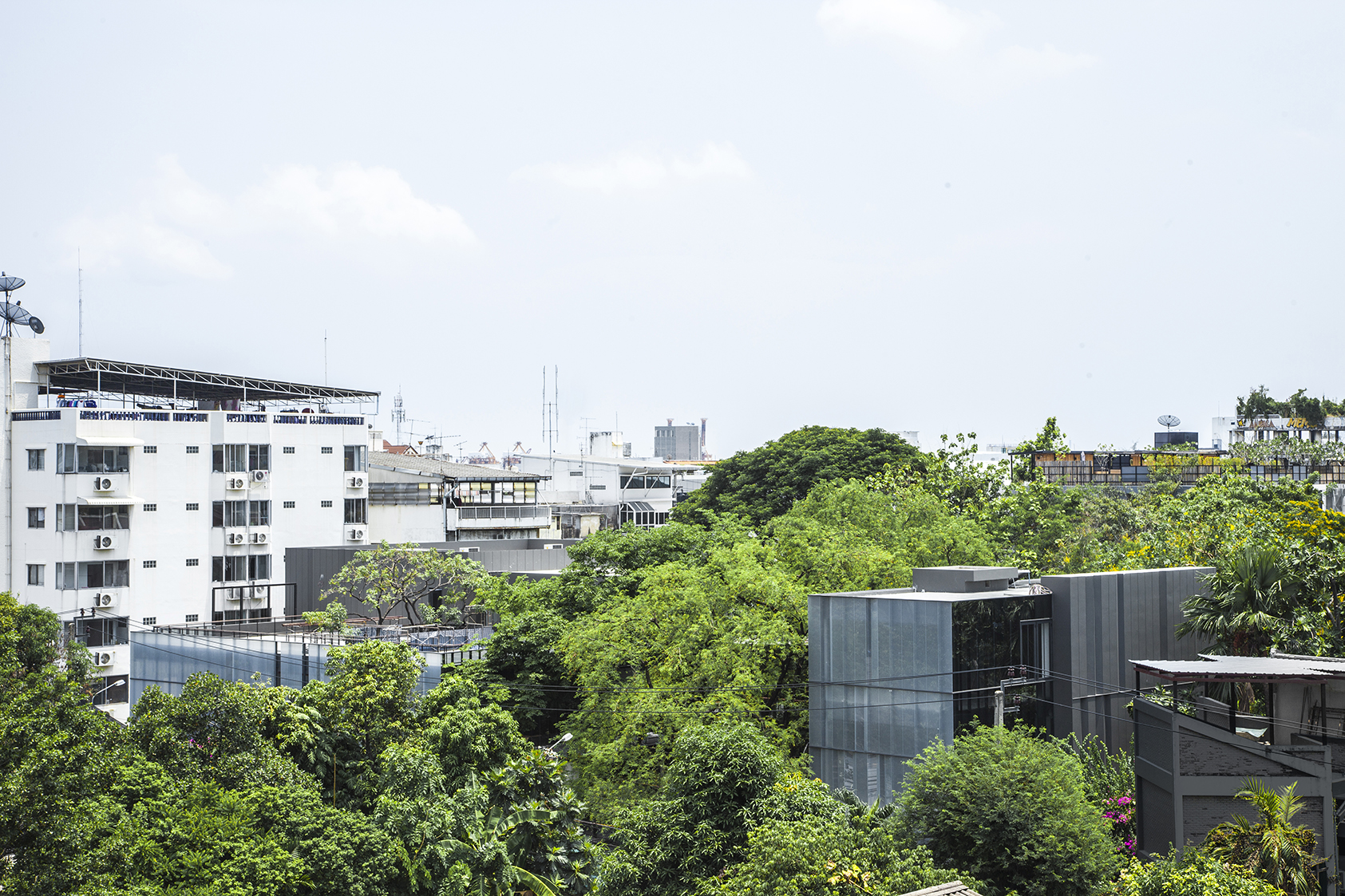 Location: Bangkok, Thailand
Type: Architecture and Interior Design
Program: Mixed Use
Client: G'RIS 46
Site Area: 1,200 sqm.
Built Area: 2,400 sqm.
Design: 2012
Completion: 2016
Construction Cost: 70M baht
Naiipa ('Deep in the Forest') is a mixed-use project consisting of an Art Gallery, Sound Recording Studio, Dance Studio, Restaurants, Coffee Shops, and Office Spaces. It is located on Sukhumvit 46, a small street that connects Rama 4 road to Phrakanong BTS Station on Suhumvit. The project is named after the concept of concealing architecture within the forest as the vision of existing greenery is preserved and expanded by using reflective glass all around to create an oasis within the dense urban context.
Upon arrival, visitors are greeted with the project's main feature and driving force in design: a group of large, pre-existing trees at its center. From the very beginning, the goal of Naiipa has been to create architecture that seamlessly co-exist with the trees, providing a peaceful and inspiring art community for both its occupants and visitors.
To fulfill the 2,000-square-meter office and retail programmatic requirement of the project, the main functions are divided into two main masses which bound the site, leaving the main tree courtyard as free open space.  Building A was designed to be an elongated 2-storey horizontal building, allowing sunlight to reach the existing Pink Trumpet Tree, preserving its growth while creating an atmospheric courtyard for the building's occupants.  To contrast the horizontal form of Building A, Building B is a vertically orientated 4-storey building.  The two main masses are then connected via multi-level sculptural terraces that intertwine between the existing trees, leaving them untouched.
The structural design for the project was also executed in respect and consideration to the existing trees.  The two main buildings are constructed with typical concrete footing to maintain the structural integrity of the function areas.  Meanwhile, in the central open space where the trees congregate, steel structures were introduced.  The shift in structural system is due to the building's proximity to the greenery where the use of mortar could damage roots and so forth, thus by using steel structure, the risk of contamination is reduced.  In addition, steel structure provides more flexibility in navigating the construction around the expanding tree branches.
Three different types of glazing: reflective, translucent, and transparent, along with the rhythmic folding pattern of the façade, are utilized to link the architecture to the surrounding urban context, as it gradually transforms the architecture and finally vanishes into nature.  The east façade, which faces the street, is a translucent double façade, helping to filter and reduce heat gain.  As the translucent façade moves towards the entrance, its smooth surface begins to fold, alluding to the forest within, as the pattern mimics the dancing shadows casted by sunlight as it filters through the tree canopies.  Once inside, the inner architectural façade and the floating "Bird Nest" Gallery cladded in reflective glass seems to dissolve and disappear amongst the trees.  It is this effect of being completely surrounded by trees that which evokes the feeling of truly being 'Naiipa'.
Stu/D/O Team:
Apichart Srirojanapinyo
Chanasit Cholasuek
Adrian Smiths
Chompunuch Vanichayanguranon
Pitchaya Kointarangkul
Landscape Architect: Field Landscape Studio
Lighting Designer: Siriluck Chinsaengchai
Identity Designer KK Rakitawan
Structural Engineer: B.N.G. Engineering
Mechanical Engineer: MEE Consultants
Consultants: Chanin Limapornvanich
Contractor: Sittanant
Visualizer: Stu/D/O
Photography: Stu/D/O, Pirak Anurakyawachon
Awards:
2015 Wallpaper* Emerging Talent (stu/D/O x NAIIPA)
2016 Wallpaper's Design of the Year
2016 ASA Citation Award
2017 Arcasia Awards for Architecture
2017 World Architecture Festival