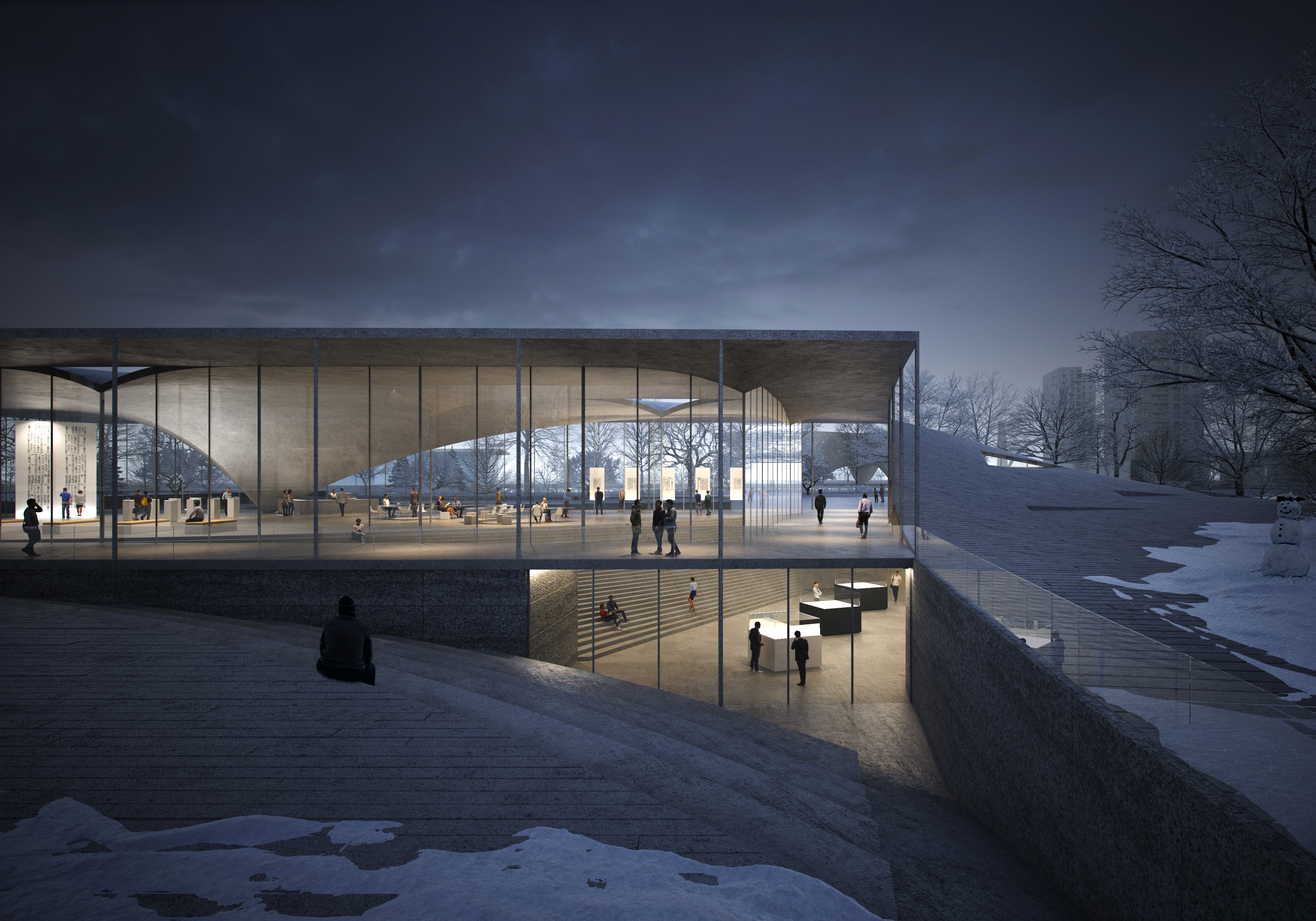 Location: Songdo, Incheon, South Korea
Type: Competition
Program: Museum

Site Area: 1,9400 sqm.
Built Area: 15,650 sqm.
Design: 2017
Construction Cost: 1680M baht
Museum of World Writing: Embedding History
Writing gives ideas and language permanence, transcending its place of discourse and limitations of human memory.  As we define writing as a form of recording humanity in time, we looked to inventions of writing that became systems of visible language. Cuneiform, as one of the World's earliest writing system­, utilized a wedge-shaped stylus to make impressions on a clay surface. This process of pressing an edge or surface to create meaning is what we have applied onto the site. Embedding the museum and its content literally into the ground instill meaning into the site while leaving the ground plane truly public, a space to create new memories. In this, we create a museum that is not monolithic, but rather a new place for public engagement, drawing people together with ­­writing and architecture.
As each surface is pressed to form a programmatic space or function, such as amphitheater or structural support, the spatial sequence encourage people to flow within a new cultural core that is very much linked to the city. Drawing from existing access points and site lines, our proposal weaves a new environment between city, river and park.
­The openness of the ground floor serves as an uninterrupted public space for flexible programs such as café and public hall. In contrast, the sunken ground floor houses the permanent and special exhibitions. The exhibition design reflects our notion of writing as a mark in time that separates human prehistory from history. In belowground conditions, the dramatic lighting and sequence through the exhibition provide engaging chapters that result in rich narratives for visitors.
The heating/cooling systems and material choices, such as ondol and rammed earth, in conjunction with water treatment embedded into the landscape design add to the bioclimatic nature of the architecture that fuses natural and controlled systems to be truly communal year-round.
While the cuneiform method generates engaging forms, our museum seeks to be more than an iconic landmark. In its embodiment of writing, MOWW becomes a place that invites people to discover, appreciate and engage with diverse dimensions of writing. MOWW is a shared ecosystem that facilitates narratives between visitors, community and the urban fabric, a place to write new memories.