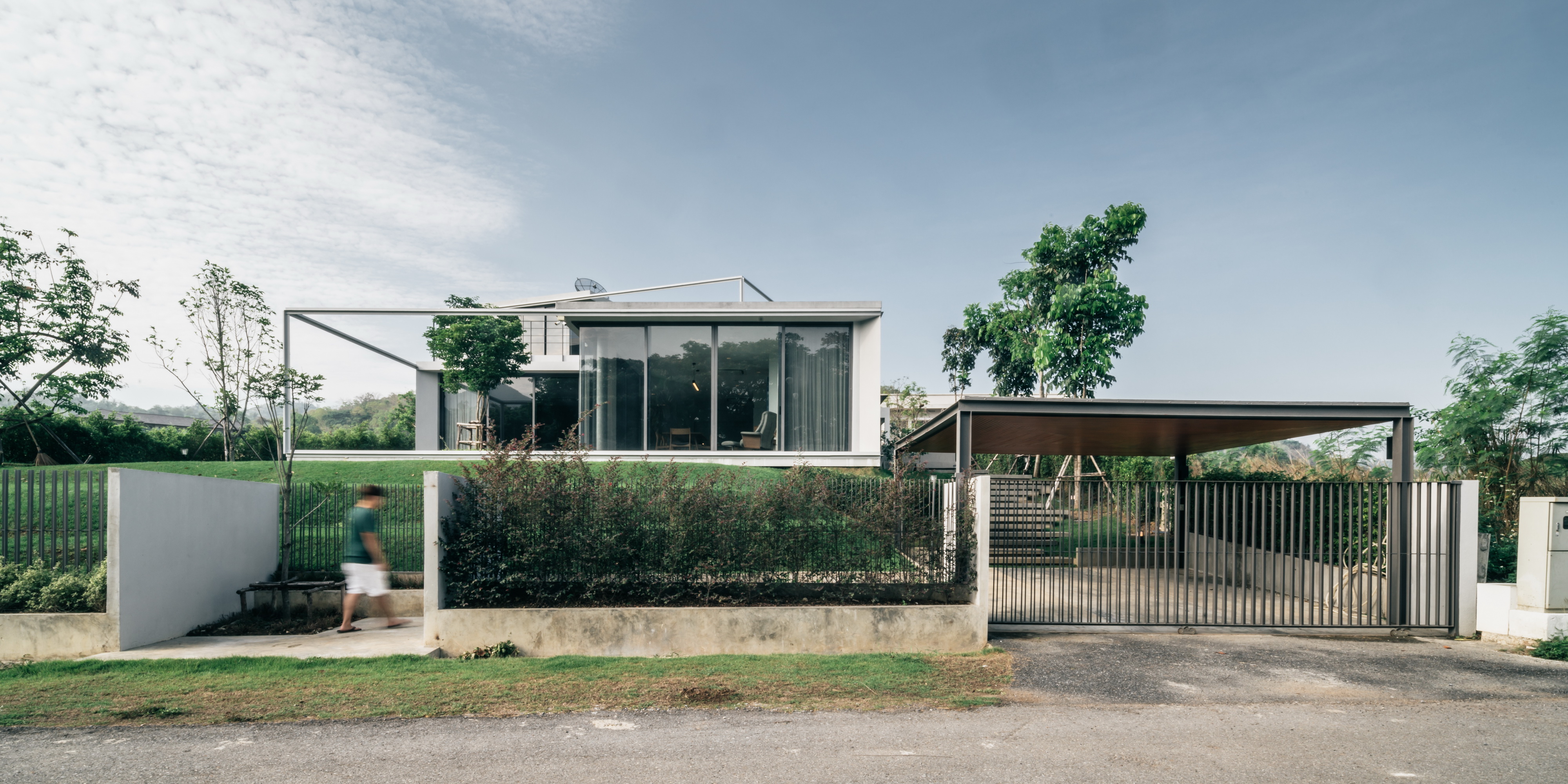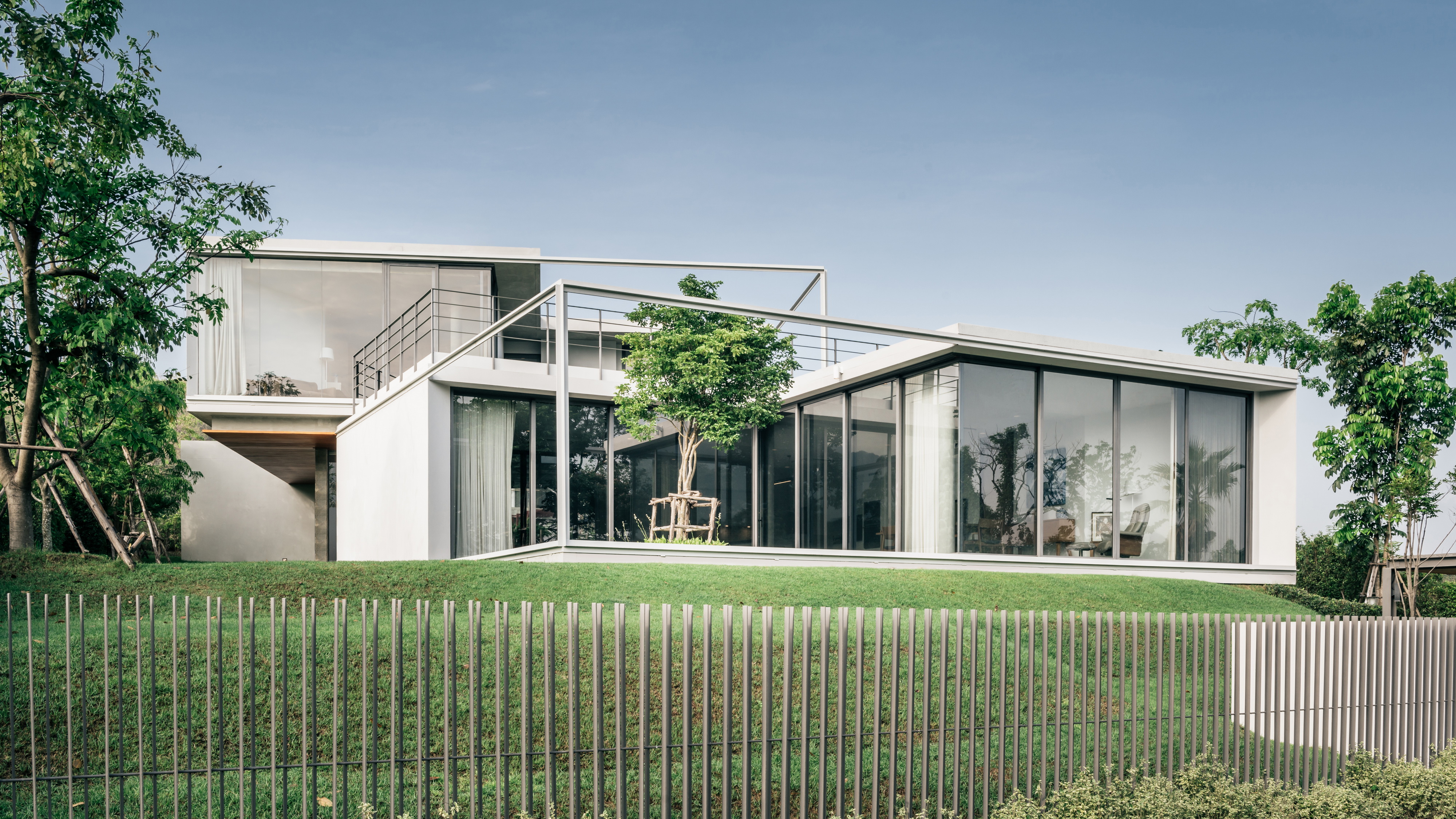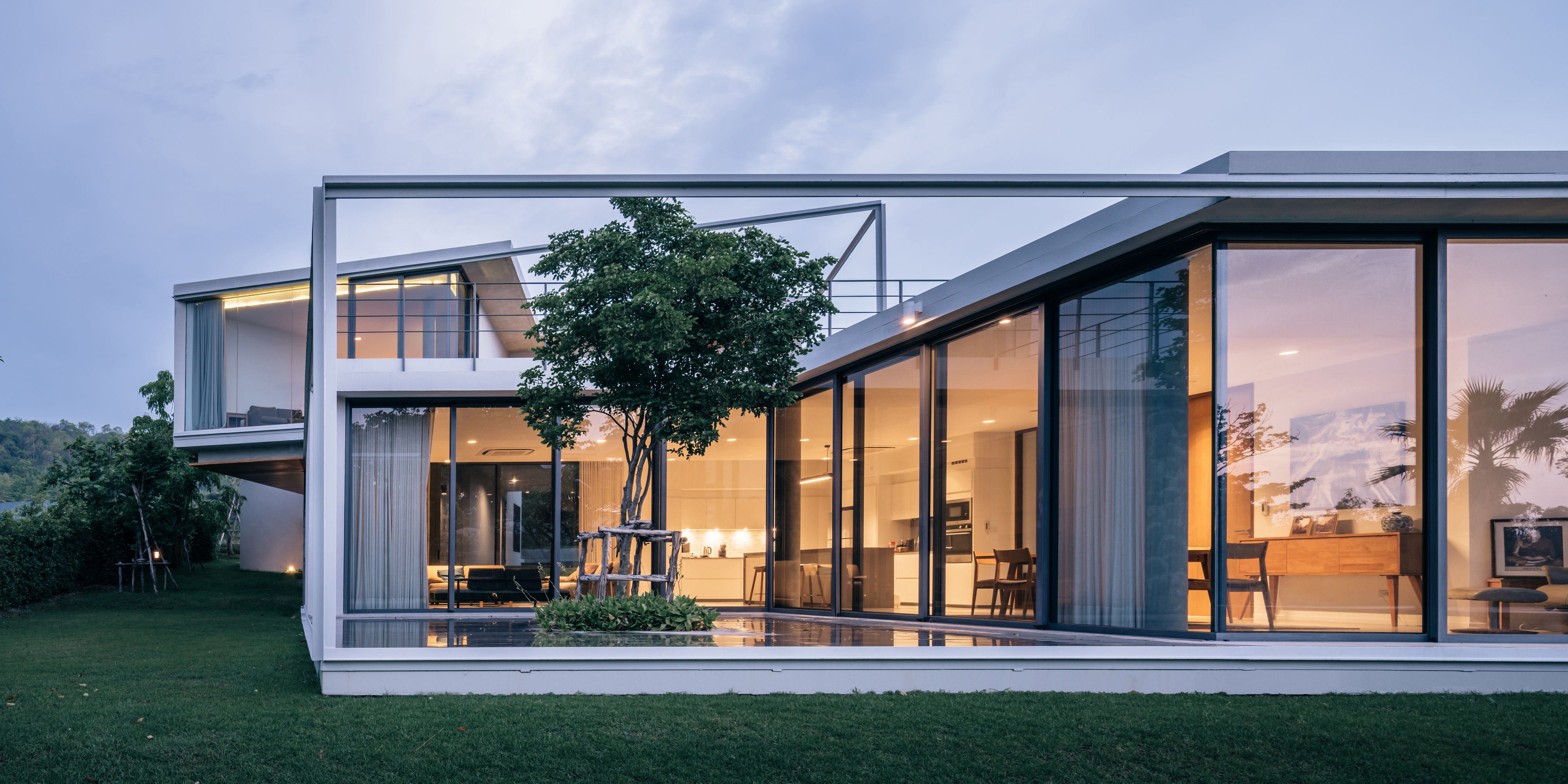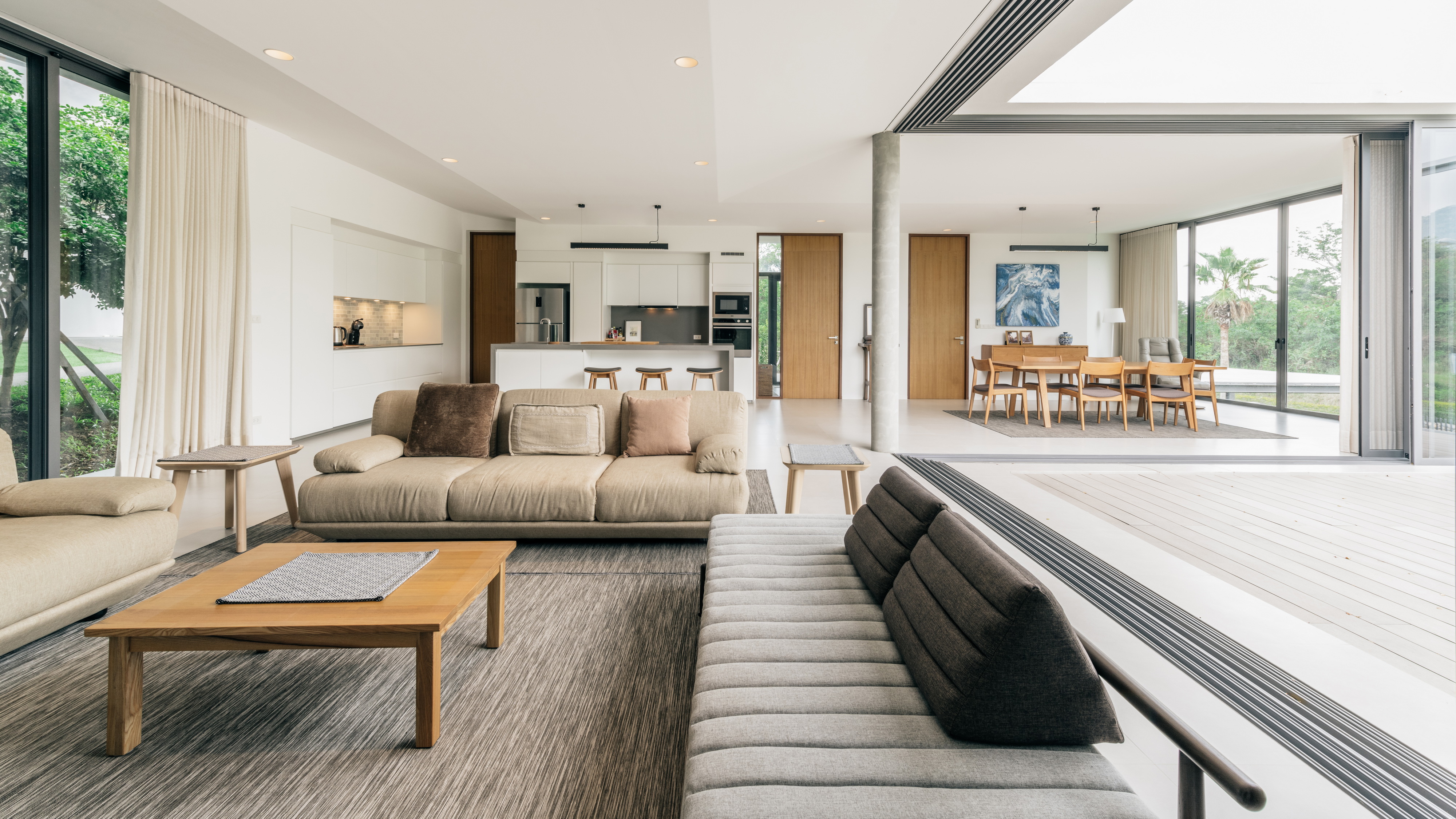 Location: Khaoyai, Nakornratchasima, Thailand
Type: Architecture and Interior Design
Program: Residential (2-Storey House)
Client: Undisclosed
Site Area: 1,153 sqm.
Built Area: 635 sqm.
Design: 2015-2016
Completion: 2019
Construction Cost: 13M baht
¾ House is a two-storey vacation house situated on the sloping grounds of a gated community in Khao Yai, Nakhonratchasima, enveloped by the surrounding mountains of the National Park. Located on a site with a terrain height difference of four meters, the massing is tiered into two levels to maximize views into the enclosing nature. With the intention to promote outdoor living, a quarter of the 2 main square masses on both levels are subtracted out to create an inner courtyard, hence its name ¾ House.
The simple one quarter outdoor and three quarters indoor mass that sits atop one another on the undulating landscape allows for an interesting relation between the thresholds of outdoor and indoor living. The subtraction in the massing to create an inner courtyard leaves the remaining indoor area as an L-shaped space, creating an opportunity for cross ventilation in every quarter of the mass. On the first floor, the living area flows out onto the one-quarter outdoor court allowing activities to exist continuously between indoor and outdoor. Concurrently, the court on the second floor which acts as an inner terrace to the private quarters is an extension of the calming space of the master bedroom, dissolving the boundaries between interior and exterior.
This condition and intention of a continuous living space is further realized in the architectural elements and use of materials. The large sliding glass planes that open entirely out into the courts allows for the boundary to exist while connecting the interior and exterior with its materiality. The mechanical systems are centralized within the ceiling, allowing for sheared ceiling planes that taper towards the windows, maximizing the window height to further connect the interior-exterior conditions. In managing the construction costs, the standard dimension of common materials of 1.20 m x 1.20 m was used to conceptualize the materiality of the house. Consisting of simple material finishes such as white textured walls, raw concrete and wooden ceilings, the materials also help in transitioning between each quarter of the rather extensive program. In some areas, the wooden ceiling flows from within the interior corridor out onto the gravel garden, connecting the transition space as one while in other instances, the raw concrete stops abruptly to divide in material, the shared living quarter to the private quarter of the residents.
Working with the architecture to utilize the steep terrain with stepped pathways and gravel gardens, and in highlighting the subtracted void as an inner courtyard, the landscape provides both shading and natural atmosphere for the living spaces. With a natural flow, not only in its massing that allows for cross-circulation but also in activity and circulation, there are no indoors and outdoors; only spaces for living.
Stu/D/O Team:
Apichart Srirojanapinyo
Chanasit Cholasuek
Nuttapol Techopitch
Structural Engineer: VST Design
Mechanical Engineer: UCC Consult
Consultants: Engineering Plus
Contractor: Double Click Construction
Visualizer: Stu/D/O
Photography: DOF Sky|Ground