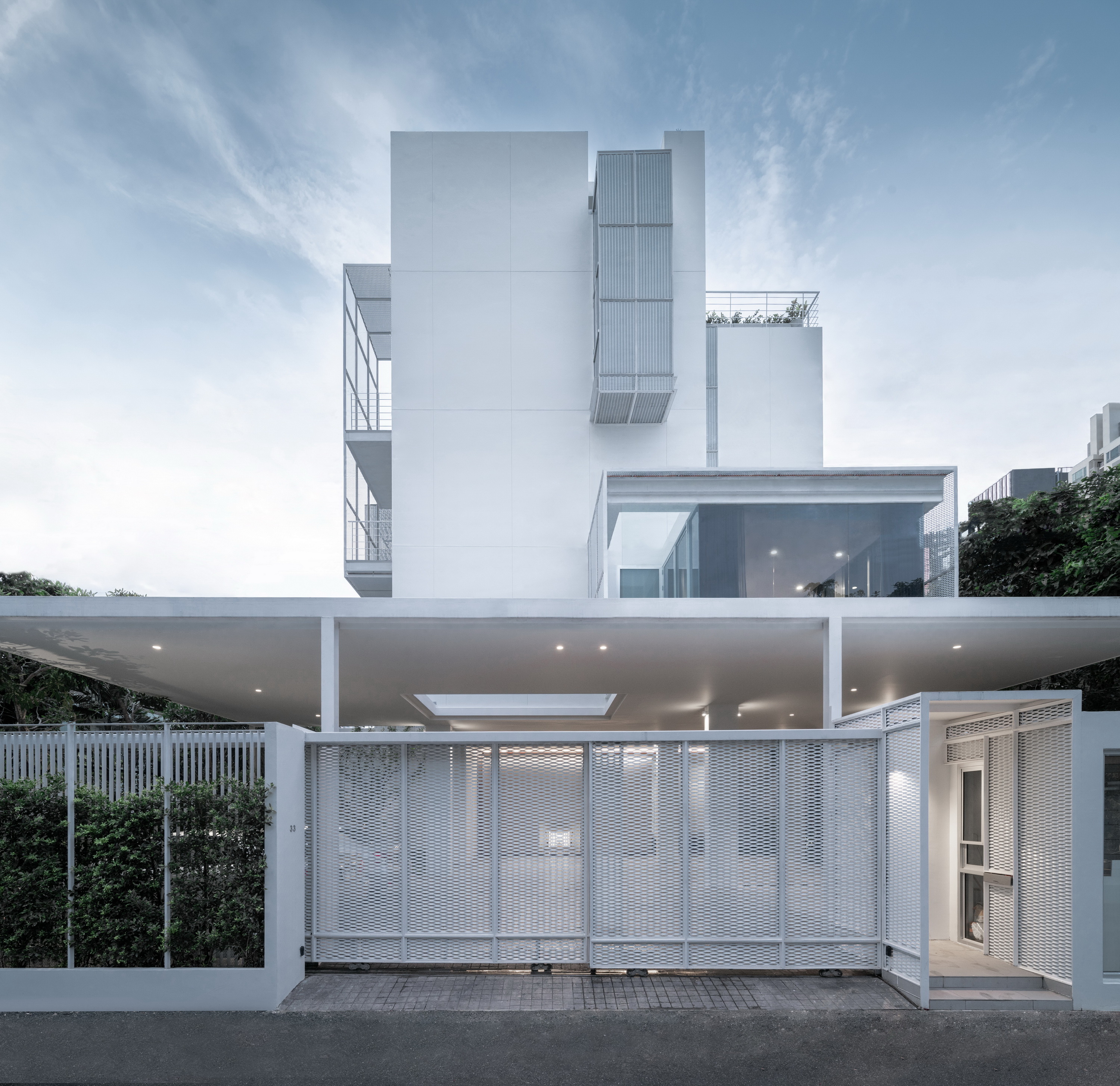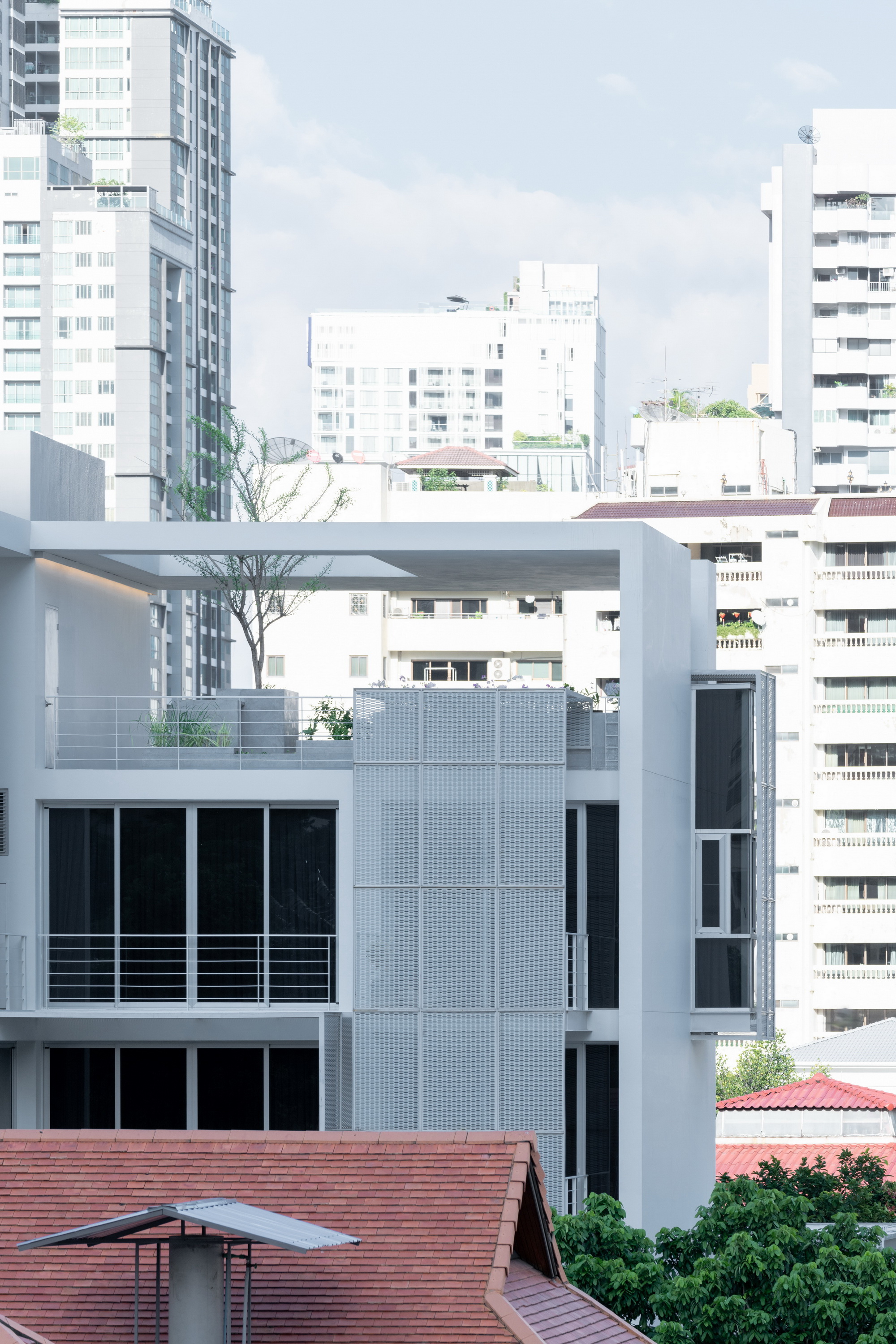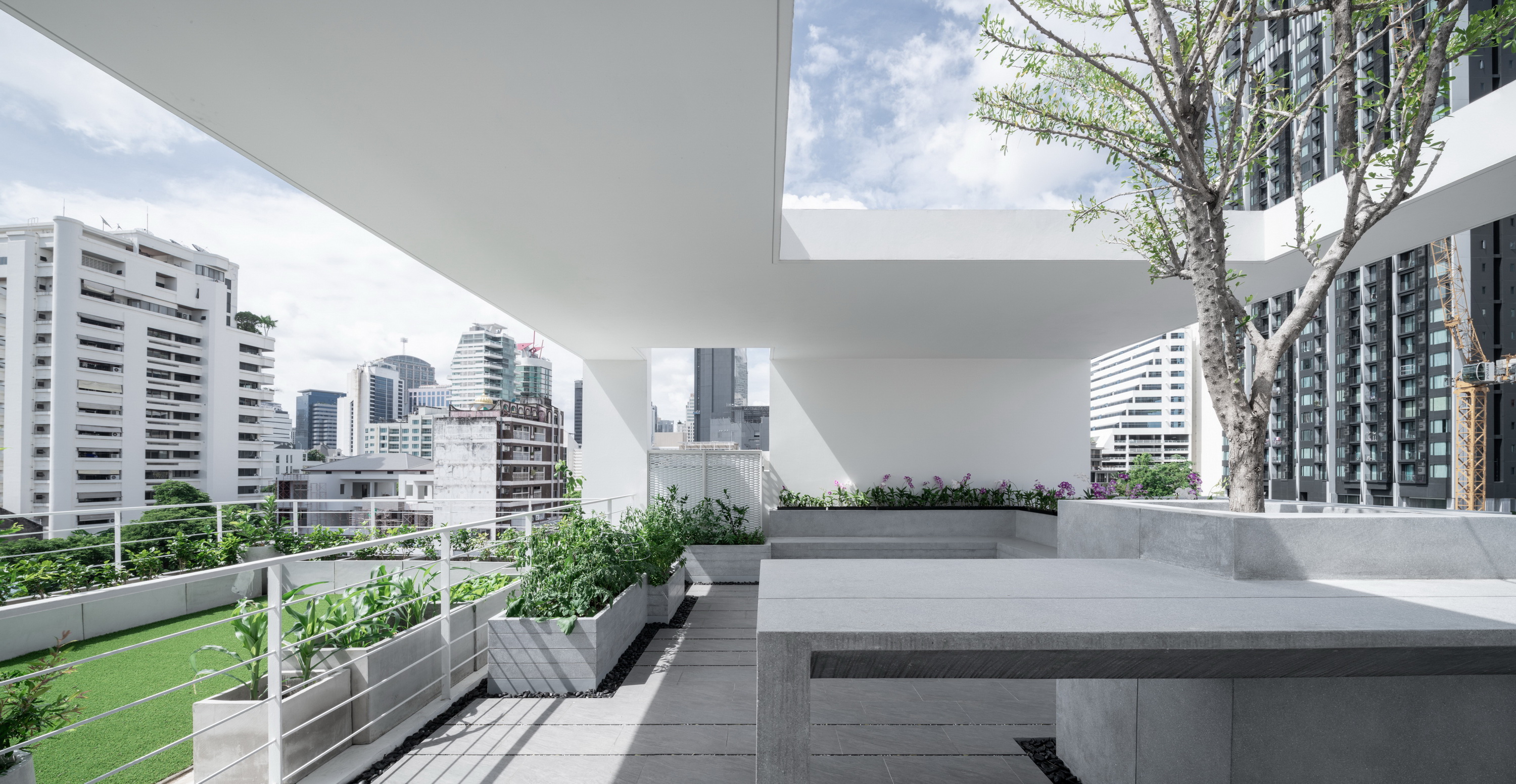 Location: Bangkok, Thailand
Type: Architecture Design
Program: Residential (5-story apartment)
Client: Baan 33
Site Area: 740 sqm.
Built Area: 1,200 sqm.
Design: 2014
Completion: 2019
Construction Cost: 31M baht
Baan 33 Apartment began as an architectural design experiment of the spatial relationship between a mixed programmatic requirement of a six-bedroom private residence and four service apartment units, its urban conditions, and nature.
Due to the surrounding context, the overall zoning is strategically organized to provide occupants with the highest amount of privacy whilst maintaining close connection to the natural environment. The private residence is positioned on the ground in proximity to nature. Above, the private residence and service apartments each occupy half of the floor area, with vertical circulation situated through the middle. A common area placed on the roof, accessible by users of both programs, act as a gathering space for various activities and recreation.
The simplified massing and subtraction provide openings for terraces, natural ventilation, and daylighting to connect the residents to nature. While its diverse application generates differing spatial outcomes, this architectural language of mass subtraction results in an overall cohesive form. Small voids are subtracted from the mass that houses service apartment units while keeping the architectural envelope intact as it protects that building from solar heat gain generated by intense sun rays facing West. A vertical void stretching the entirety of the interior to the exterior roofline allows for stack ventilation to bring about natural cooling. For the private residence, large portions of the mass are removed to provide optimal views. This void is replaced by transitional spaces that function both as exterior terraces and shading. An envelope of expanded aluminum cladding provides shading, ventilation and a prominent façade feature for the front elevation.
The subtraction of massing, composition of spaces for the duality of the mixed program and use of materials, all contribute to realizing the building's intent of a residence that connect its users to nature within the dense urban cityscape.
Stu/D/O Team:
Apichart Srirojanapinyo
Chanasit Cholasuek
Picsacha Na Songkhla
Tirayu Preechavibul
Landscape Architect: –
Interior Designer: Little Enjoy Studio
Structural Engineer: Ittipon Konjaisue
Mechanical Engineer: MEE Consultants
Consultants: Chanin Limapornvanich
Contractor: Sittanant
Visualizer: Stu/D/O, DOF
Photography: Stu/D/O